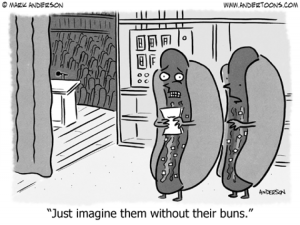 The time has come: I'm on my way to London to attend the 2017 VA Conference at the Office Show in Olympia. Nothing new there: I've checked in to this annual event as a delegate many times, and for the past two years I've been invited to speak on a panel at the show. But this year is WAY bigger than any other for me.
This year I'm a SPEAKER; a real-life stand-alone-in-front-of-loads-of-people speaker. Gulp.
I can't ignore the churn in my stomach as I write this, nor the nerves that have been present since I found out that I'd been signed up for biggest speaking gig of my life. Yup, I have to say, it is pretty daunting. It's a huge venue, with BIG crowds and an audience made up of my peers. I'd be lying if I said I hadn't doubted if I could do it at all, let alone well. And I'd be lying if I said I hadn't toyed with the "thanks but no thanks, maybe next year?" escape route.
But here's the thing: when I first set up my business five years ago, I had a gut feeling, a vision, if you like, that somehow, somewhere along the line, I really wanted to speak in front of large crowds. A bit weird seeing as I hadn't done any public speaking at all at that point, but I acknowledged, explored and nurtured that vision as I grew my business. I resolved to take every opportunity to speak in public that came my way, and to create opportunities for myself as well. It's been uncomfortable at times, and downright terrifying at others, but I stuck with it, saying yes and putting (and pushing!) myself forwards.
As a result, my confidence grew, my skills developed, and I started to really find my voice and discover what it was that I actually wanted to be saying, and whom I wanted to be saying it to. The nerves abated (a bit), I got into my groove and found that, as well as being pretty good at public speaking, I was comfortable with it and, best of all, I absolutely loved it!
Result.
But of course, you've got to keep growing to keep on learning and when I'm comfortable with something it's a sure sign that I'm due for a bit of self-stretching. Cue request to present to the biggest crowd ever at the VA Conference tomorrow –  no hanging around in the comfort zone here.
I know that I'll be on my own out there tomorrow, but I didn't get "stage ready" without help. After a bit of panicking, procrastinating and pretending it wasn't happening, I pulled my socks up, acknowledged that I needed support and set about getting as much of it as I could from the best people I know.
At times like this I'm infinitely grateful for the wonderful support network I've built since I started my business. Thanks to it, I had the incredible Catherine Sandland at arm's reach when the need arose. Not only is Catherine a phenomenal speaking coach, she's someone I know well, feel comfortable with and trust implicitly to give straightforward, honest and direct feedback. And you can't put a price on that.
It's sensible to reach for the experts when you're facing a challenge like this, but it's wiser to reach out to experts you really connect with if you're going to benefit from the full impact of their help. So keep on building those connections and forging those relationships, they'll be a huge support to you and your business!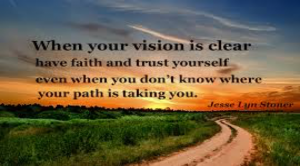 Back to tomorrow and the big "test" of my vision:  I am, of course, hoping to be brilliant. I'm hoping that I don't forget my name or trip and slide, legs akimbo, across the stage.
I'm hoping that the words will flow, that my delivery will be engaging, enlivening and accomplished, that the applause will be enthusiastic and the feedback glowing. I'm hoping to validate my vision and propel myself forwards on my public speaking trajectory.
Then again….I'm aware that it might not go so well, and that's fine too. Whatever happens, I'll come away proud of myself for getting out there and making it happen. I followed my vision and I'll take the lessons from that – whatever they are – and incorporate them into my onward journey. I'll know that I did it. And that, my friends, is what matters to me.
If you're thinking of coming along to the conference, please pop over and see me strut my stuff – I'll be in the VA Conference Theatre at 11.15 a.m.  And if you can't be there then a few positive vibes sent over the airwaves would be much appreciated too.
Wish me luck!