I've talked a lot about working with others, about collaborating, networking, recruiting associates, building relationships and creating a solid foundation of people to help you achieve your goals. And now, with the conference literally next week, I'd like to introduce you to MY people, the individuals who help me to do what I do, the parts that make up EVPA, the wonderful women who are my A Team.
I'll start with Naomi, my daughter. I know how incredibly lucky I am to be able to work with my daughter. She knows me inside out and she knows the business inside out. She's my right-hand woman and my in-house stress-checker: she tells me off for taking on too much and she reigns me in when I'm trying to say yes to EVERYTHING; she provides enormous emotional support and immeasurable help with the practical side of the business. Naomi is my rock, and she rocks.
She'll be the one at the conference handing out name tags, organising your dinner and making sure I eat ! She will also be knackered from organising the conference, so if she nods off just let her nap.
Next there's Pam, my VA. Oh yes, I NEED a VA, just like any other busy business owner. I met Pam many years ago at a networking event; we immediately "clicked" and stayed in touch. Pam worked with me as an associate which gave me first-hand experience of her dedication and the flawless work she did for my clients. So, when my business grew to the point that left a large, VA shaped hole in it, Pam was the person I wanted to fill it, and she's been a star ever since.
She'll be the one at the conference with one eye on the agenda and the other on the clock, chivvying me along.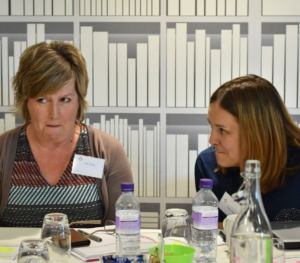 My business in their hands: Pam & Cathy at last year's conference
Cathy is the extremely talented head honcho of my social media. There was a time when I did my own scheduling. It was a pain. Then there was a time when I had somebody else do if for me. Still painful. Then I found Cathy and the pain was gone. Cathy knows the score, understand me and my business, and she's a social media whizz. It's such a relief to have my online presence in her safe hands.
Cathy will be the one at the conference tweeting pictures of you doing the Conga. Joke.
Or is it?
And finally, Pat, the blogger. If you're anything like me, you'll have a LOT to say but not always the time to write it, or the patience, or even the right words to get your message across. Thankfully for me I have someone who takes my ideas, my thoughts, my sometimes-messy head-stuff, puts it into her own head, unscrambles it, smooths it out and sends it back in the form of a logical and meaningful blog. It's a bit like magic.
Pat's my photographer too so she'll be the one with a camera in your face at the conference. (Pat sends her apologies in advance.)
So that's the EVPA gang. We've been together as a team for over five years now and, even though we all run our own businesses and have a billion other things going on in our lives, we always manage to meet up twice a year over a meal to catch up, chat about our lives and  – eventually do some business planning. It's my way of giving a little back to the team I value so much.
It's so important to find your people – I found all of mine (apart from Naomi who is homegrown in the truest sense of the word) from networking. So, keep on getting out there and meeting people. Give people a go – they won't always be the right "fit" for you, and that's fine, just try someone else until you find your own A Team!