When I started out as a VA, I was, of course, determined to be not just a good VA, but an outstanding one. Like you, I had the pre-requisite skills for the job, I was:
Organised
Punctual
Reliable
Trustworthy
Technically skilled
Personable
Motivated
I was excited about – and totally committed to – providing an outstanding service to my clients: one that would exceed their expectations and fill me with pride and satisfaction.
BUT….there was more! The fire in my belly was fuelled by a deeper, more exhilarating challenge than the desire to be a valuable VA. From the outset, my vision was focused on a bigger picture: I wanted to become a brilliant businesswoman too.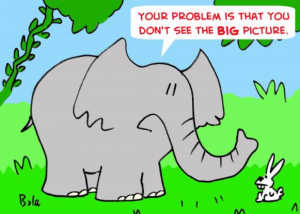 It seems to me that, when it comes to VAs, we often fall into one of two camps: there are those, like me, who see themselves first and foremost as businesspeople: entrepreneurs whose primary goal is to build a successful business and BE THE BEST. And, in the other camp, there are those for whom the business side of things (deciding on a business name, registering with HMRC, keeping financial records etc.) is, fundamentally, just a necessity to enable them to legitimately operate as a VA.
There's no right or wrong in this, we all have our individual reasons for what we do and why we do it; we have different goals and different areas of focus, and I love working with and supporting VAs in both camps. There are manifold reasons why a VA might not want to branch out and grow their business, and that's their business. But, I'm convinced that there are many VAs who are being held back by FEAR: fear of the unknown, fear of failure, fear of putting yourself out there. The thing is, if you want to be really successful, if you want to be seen as a real go-to expert in your industry, then you need to BE SEEN. And the only way to do that is to look up occasionally from your clients' spreadsheets, get out of your comfort zone, grab your business cards, and get out there!
You've come a long way and put in a lot of work to get to where you are already and you may well have reached exactly where you want to be. BUT, if you think you could go a lot further, if (when you're really honest with yourself) you know that the only thing holding you back from the bigger picture is fear, then it's time to face those fears and get serious about your business.
It may feel a bit scary at first, but there's so much support out there from other VAs, and so many opportunities to reach out and connect and put yourself in the headlights, that once you make up your mind to be more than just a VA and start implementing the necessary changes, you'll be well rewarded for your efforts.
Whatever camp you're in, we're all standing on the same, big and beautiful VA field together, and it's working with others, nurturing, connecting, sharing and supporting each other that will ensure our continued growth and success.
The focus of this year's NWVA Conference  is #getconnected and will show you how reaching out will not only develop your confidence, increase your offerings and improve your services, but help you to really grow your business and enjoy real success.
I will be launching a VERY exciting programme at the Conference, it's all about 'Being a Stand Out VA' and I'll be sharing my journey and helping others to develop and plan their own.
So, if you're currently in the 'I want to do more' Camp and want to move into the 'Stand Out from the Crowd' Camp, watch this space for the launch information on Wednesday 22nd June, attendees of the NW VA Conference will be receiving a VIP Launch Price and then we'll be opening the doors to the rest of the fantastic VAs we have in our Industry
Excited to announce more next week…….
Joanne 🙂
VA Mentoring Now open!!! Visit 'Be a Stand Out VA' today!