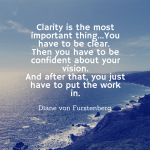 With the NW VA Conference two weeks behind us, I've had some time to relax and come back down to earth, where I've enjoyed basking in the wonderful feedback it received.  But I've also had a chance to take stock: to reflect on the event itself, analysing and reviewing the first conference I've ever organised.  And it thrills me to say that I couldn't have asked for anything more! It really did all come together on the day: from the big things like the presentations to the little things like goodie bags, it was a perfect fit.
We all know that events that are memorable (for the right reasons anyway!) don't just happen: it takes a good deal of planning, careful preparation and oodles of organisation just to deliver an experience that meets your audience's expectations. But, the thing that's really stands out to me now, is that if you plan to exceed expectations and deliver a GREAT event, then you'll also need to surround yourself with the right people and bring a great big dollop of CLARITY to the proceedings.
The aim of this conference was to help VAs stand out in an increasingly competitive market. And, as I considered and planned the event, I had a clear, strong focus on just how I could make that happen…and who would help me to do it. I thought long and hard about what I'd loved, learned about and taken from events I'd attended in the past and, like a magpie looking for the shiniest objects, I incorporated the best of each into my own conference plan.
For example, I wanted a format that would give everyone some quality time to relax and get to know each other, and so I arranged for the event to include a lovely social meal on the first evening; this really worked as I'd hoped it would and set the tone for the following day. I made full use of all the resources available to me – especially the people: when it comes to organising a great conference, it's all about the people! And I knew who I needed to help me bring my vision to life, starting with my daughter, AKA my right hand woman.
I know how lucky I am to be able to work with my daughter in my business: she provides the most capable, loyal and committed colleague you could find. And whilst I know this not an option for most, it's vital that you find people to work with whom you really trust and who understand you.
When selecting the guest speakers for this event, I stayed fairly close to home too: all four of the fabulous speakers are women I met through networking and have worked with in some way. I knew that they would deliver – with energy and honesty – meaningful, relevant and valuable presentations that would enable the audience of VAs to walk away with tangible tactics to improve their business and career.  And they certainly didn't disappoint: Debbie Hayes of Debbie Hayes HQ, Naomi Gilmour from Branching Out Online, Lisa Chilvers from Athena Business Solutions and Catherine Sandland from White Hart Training offered a  wealth of inspiration and guidance as they spoke with passion, conviction and energy about how to stand up and stand out as people and businesses.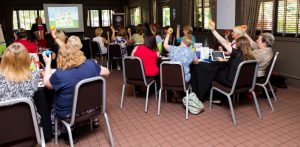 But remember that it's not enough to just have a clear vision of what you want if you don't communicate that vision, set clear boundaries and express your requirements and expectations to those around you. Being clear and coherent about what you are asking each person to do, and why you are asking them to do it, will avoid misunderstandings and hopefully any nasty surprises on the day!
Another thing I was very clear about was how I wanted this conference to LOOK: after careful research into suitable venues I decided upon the comfortably stylish Village Hotel in Warrington, and worked with the wonderful staff there to bring my vision of the conference room to life. On the day, it looked just as I had pictured it in my mind's eye, and the service provided by the hotel staff was second to none too.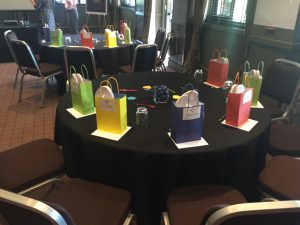 From the venue and the speakers to the food and the photographer Andrew Collier of Andrew Collier Photography, the brochures and the party bags, I knew what I wanted, because I knew what would work. And yes, organising it all was hard work, sometimes frustrating, sometimes exhausting and there was, of course, a little apprehension as the day approached. But the challenge was a wonderful one, enhanced by the clear vision that drove me towards my goal, the wonderful people around me and my strengths as a facilitator.
It's perhaps testimony to the success of the event that we've already had several bookings for next year's event, and it's testimony to my enjoyment of the whole process that I can't wait to do it again!
Hopefully see you there !
Joanne