It's been seven years since I took the plunge, took control of my life and set up Executive VPA. Happy birthday to me!
Of course, you know what they say about seven years…about it being a time when the dissatisfaction sets in, whether it's in your marriage or your job or your home? It's said that – with the honeymoon period well and truly over and enough time under your belt for things to really start bugging you about your spouse or your boss or your business – you can fall into a sort of relationship slump, wading through restlessness and listlessness, craning your neck to see if there's some greener grass somewhere "over there".
Well, here's the flipside to the seven-year-itch: seven years ago, I was only just putting down the foundations for the life I have now. I was working out what it was that I really wanted to do, and nervously but determinedly taking the first steps to get the life blend that I dreamed of.
I haven't had the time to get bored because it's been a constant process of learning and adapting and changing and tweaking and TRYING. And, seven years on, I'm STILL learning and changing and tweaking and TRYING, although I do have a much better idea now of what works for me, what makes me happiest and what I'm best at.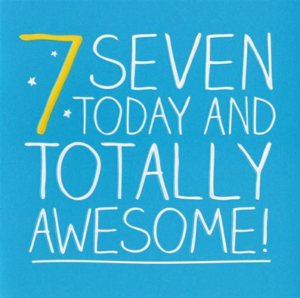 I don't feel that I'm even half way through this journey, or that I've achieved even a fraction of what I will, but I know I'm at a stage where I can really help others to get to where they want to be and, after seven years, my focus is very much on working with VAs and helping businesses to be more successful and productive.
Things have changed a lot from when I set out: my expectations, my understanding, the skills I've developed and the aspects of the job that I love. It's been a windy road, up and down, sometimes harder than others, but I know that I've always been on the right path. And far from finding myself in a slump, trying to scratch the seven-year itch, I'm just chomping at the bit to keep going, to keep growing.
Looking back, I can honestly say that it's been great, and it's been great because I've surrounded myself with the right people, kept my sights firmly on my life blend, and never lost touch with my desire to learn, to adapt, to build my business, and to help others to do the same.
It's hard to be unhappy with something (or someone) when you focus on the positives, when you take nothing for granted, when you keep an open mind and stay connected, and it's impossible to be in a slump when you're taking positive strides.
If you have a clearly defined purpose, if you've identified your career values and motivators, if you're honest about your priorities and you've taken the time to work out what's really important to you, you'll find yourself on the right path. And, seven years down the line, you'll be itching to keep doing what you're doing and improving what you're doing, not to jump ship to the all-singing-all-dancing party boat across the harbour.  You'll be having your own party, with waaaay better singing and dancing!
So, for me it's a great big seven-year celebration today, and I'm really looking forward to seeing what the next seven years bring, for me and those I work with.
If you're a VA and ready to keep changing, learning, trying and growing, take a look at my VA programmes to see how I can help you to find your path, be a stand-out VA and Get It Done!
Jo x