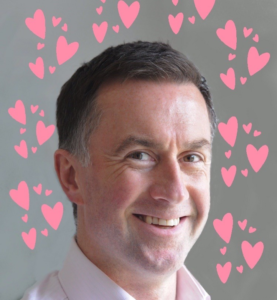 I know that Valentine's Day doesn't hold much (or any) meaning for a lot of people, and I sympathise with all those suffering from cringey card fatigue. BUT, love it or loathe it, it's a great excuse to share some love online today, and – with the Conference only a few months away – the perfect opportunity for us to give a big hearts & roses shout out to our 2020 speakers.
We LOVE our speakers, we really do – they bring so much value and worth and personality and fun to the conference each year. They teach us and inspire us, they galvanise, energise and excite us – they question us and guide us and SHOW US THE LIGHT. We've been so lucky to have the best of the best – and this year is no exception. Already lined up is award-winning entrepreneur and marketing consultant Kate Carney, (expect some straight-talking brilliance and lots of colourful language), and Psychologist, Executive Coach and Mentor Wendy Kendall who's going to unleash our potential and introduce us to our inner leader!
And, something extra-lovable is happening this year: for only the second time ever, we've invited a speaker to come back for the second year on the trot. Those of you who came to last years conference will remember the delightful Mark Wiseman – you know, the MS Software guy whose every word we were hanging off? They guy whose session carried on over lunch because we all agreed that soaking up his wisdom whilst eating at our desks was WAAY more important than hoovering up extra helpings from the buffet in the restaurant? Yeah, THAT guy.
As with all our speakers, Mark didn't just love us and leave us after the conference: he went on to work with loads of last year's attendees, and he's even put together a bespoke VA support package which he'll be announcing at the conference, with a special price for attendees. It's a relationship that just keeps on giving, and that's because, as VAs, we are totally in love with what he has to offer! We love processes and making sure everything is done efficiently, we love MS365 and we'd sell our granny to the guy who can show us how to use it to radically improve our business.
It's crucial stuff for a VA business, and Mark's the man who makes it all make sense and come together for us. So we love him. Simple as. And we invited him back and he said yes. So he must love us too.
Get your tickets booked here if you want to be part of this massive big learning/love fest on the 18th-19th June. It's going to be a GREAT one!