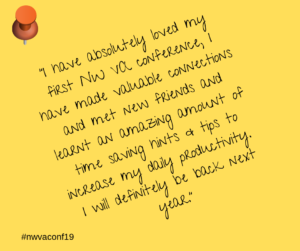 One of the things I love most about the conference is reading the feedback forms afterwards, and this years really reminded us of why we do this and what a fabulous industry we work in. We were more determined than ever this year to create an event that really encouraged and facilitated connection, communication and collaboration, and, judging by the feedback and the relationships that are blooming as a result of our event, I think we pretty much nailed it on that score.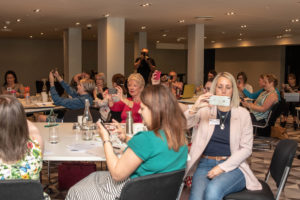 Surely the VA industry is unique in that it fosters such a productive and positive sense of networking and coming together? There was a palpable sense at the conference of us all "being in it together": of everyone having something to offer, something to learn, something they could help with or something they needed help with. It's only two weeks on and yet some of the attendees have already joined forces to work together in a virtual office; some have undertaken associate work together, and some have signed up to work with some of the speakers. Result!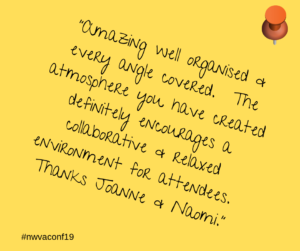 I'll admit, we had a fairly hectic schedule, and the leisurely lunch we'd planned on day two morphed into eating at our desks so that we could learn more from the wonderful speakers. I'll admit that there was SO much information that I wondered at some points if my brain could absorb any more. But our speakers were so bloody brilliant, and their advice and tricks and tools were like GOLD DUST, so the effort required to grasp it all was well worth it.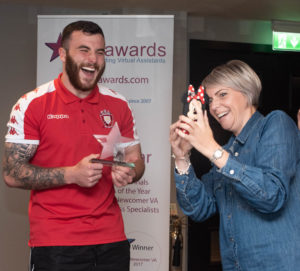 And, whilst this hard brain work was getting done, lightbulbs were popping all around (metaphorically speaking, of course – the Village Hotel has a very good record of health & safety),  people were actually shouting "Aha!", problems were getting shared – and solved, friendships were growing and networks were expanding at the rate of ten to the dozen. And there was a lot of hilarity too, because, whilst the NWVA conference is no joke, it IS a right laugh.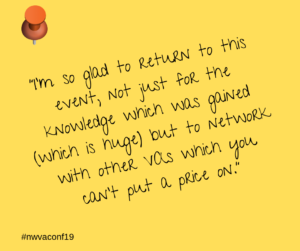 I'm so proud of our industry, of the openness, willingness and loveliness of the people in it. I admire anyone who's putting themselves out there, learning and developing, building on what they know and sharing the ups and downs of their experience with others. I'm proud of the event we created, and I'm thrilled to see so many positive and worthwhile results coming from it.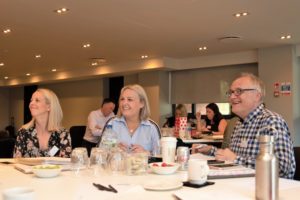 As I've said before, it's not what you know it's who you know, and building a solid network is one of the most important and valuable things a VA can do for their business (and sanity). So keep on meeting and sharing and talking and working together, it's the way to go. Trust me, I'm a VA 😊
To register your interest for next year's conference, click here and sign up
See you there in 2020 !  Jo