Knickers, balloons and Glitter- Another Successful  NW VA Conference
"This event has to be the essential go-to event for all VAs"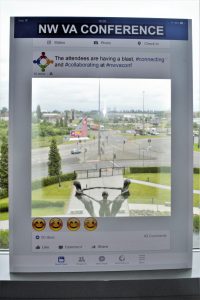 They say you're only as good as the people you surround yourself with, and if the speakers and attendees at this year's NWVA Conference are anything to go by, I must be amazing!
Of course the success of any event like this largely depends on good planning and organisation… but to REALLY make it work, it also needs some brilliant speakers and a fabulous audience – and we had both in abundance at last month's conference.
The thing that struck me most, as the days progressed, was the openness of everyone involved. The willingness of the attendees – who had come from all corners of the UK – to fully engage with each other and the speakers, says volumes about the collaborative nature of our industry. Technically the audience was made up of "competitors", but there was NO sense of competition, just a genuine passion for learning and sharing and support.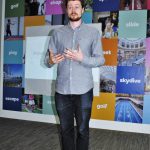 Day 1 kicked off with the lovely Matthew Lomax from Popsical Productions easing us out of our comfort zones by urging us to record our own Facebook Live videos on the spot. I think we all feel a natural aversion to showcasing ourselves through video, but it's such a great way to engage with your audience, and it was much less daunting to have a go with Matthew's guidance and in the company of others in the same boat. When it comes to video, the message was clear: just do it!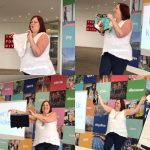 Then there was the hilarious Anne Williamson from Lucrative Marketing  who – with the aid of some fairly disturbing underpants – delivered an outrageously funny presentation on how to really talk to the different groups within your customer base. Beneath the laughter there were heaps of invaluable insights into how to improve the messages we put out there, especially in our marketing material. Her "measles test" had us reviewing our brochures, emails and websites to see who was guilty of the "me, me, me" crime against clients. Remember, it's showcasing what you can do for THEM that'll get them interested in you, not harping on about yourself!
I know that being a VA is hard work, and managing your workload so that you can take a couple of days away from your business to attend a conference can be really difficult. But putting yourself out there and in a position to learn, not just from the speakers, but from your peers, shows a real commitment to your profession and your own personal development.  It's an investment in yourself and one which can replace the feelings of isolation that working alone can bring, with a sense of connection to others, a feeling of being a part of a larger whole.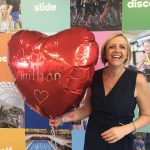 This feeling of "coming together" was palpable as the delightful Naomi Gilmour from Branching Out Online delivered her sparkling presentation on day 2 on showcasing yourself through social media. With love heart balloons, glitter and an abundance of confectionery, Naomi sweet-talked us into showcasing our unique talents and 'one-in-a-million selves' so that we really stand out in our entire, individual, technicoloured glory online.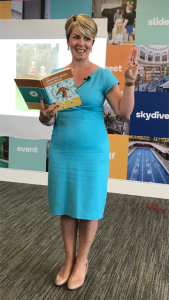 Of course, being a VA is all about helping our clients to shine, but – as the superb Penny Halsam pointed out in her inspirational presentation, "How to be a Little Bit Famous" – that doesn't mean hiding our own light under a bushel. Quite the opposite: we should all be "running for mayor" in our own way. Pushing ourselves forward doesn't always come naturally, or without apprehension, but we need to promote ourselves! Whether that's by producing press releases, speaking on local radio, appearing on TV, putting ourselves forward for awards, or getting active in our local community/industry, the important thing is to get ourselves out there to be seen by the people we want to work with. Do not be afraid, VAs, the force is with you, and we all deserve to be a little bit famous!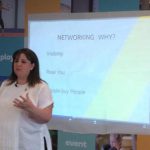 Finally we heard from our Conference founder, Joanne Hawkins on navigating our way through the 'networking jungle' An insightful look at the different 'animals' we may meet along the way, have you experienced the Meerkat or the Peacock or maybe you've been the rabbit? Joanne gave tips on how to really be clear about your business and how attendees could help other business owners build successful, outstanding businesses.
All in all, the conference was a bit of a blast, to say the least, with the celebrations culminating in the announcement of Queen Bee PA as the winners of the 2017 NW VA of the Year award. Helen and Jane were holidaying in the South of France, so we put in a call to them with the good news. I'm sure they could feel the genuine warmth of the congratulations sent over speakerphone from all in the room. A huge congratulations to you, ladies, and a big well done also to runner-up Pam Clark of All Things Sorted.
With plans already afoot for next year's event (Thursday 21st and Friday 22nd June 2018 – save the date!), I'm getting very excited about who – and what – it'll bring.  Please do join us for the next one, and remember that there are loads of fantastic events like this right across the country, all year round.
If you're looking for inspiration, advice, support and a renewed sense of passion, purpose and connection, there's nothing quite like a conference to deliver the goods. So get out there, make connections, join the fun….and showcase yourself!
If you have attended over the last 3 years, why not leave a comment below with your feedback and spread the word about our next event
I'll leave you with some lovely snippets of feedback from this year's event:
"One of the BEST conferences I've been to….and I've been to a lot!"
"Felt very welcome as a newbie VA and newbie to the NW VA Conference"
"I'm new to this and have learnt loads, made contacts and feel really positive and excited about going forward with my business!"
"Lovely energy and an amazing group of fabulous women."
"The best industry- relevant event I have ever been to."
"This event has to be the essential go-to event for all VAs"
"Great to meet so many like-minded speakers and VAs from the north and the south – no divides here!"
"Fan'bloody'tastic!"